Gallery 2021 - 2022

:
take a look through the pictures of our wonderful children and staff - come back to see the next Fullwood event...
20th June 2022 - choir performance
Well done to all our wonderful performers who did an incredible this afternoon. Our Mini Maestros delivered a great performance, as well as our Junior Choir, to their parents and staff. You have all worked so hard this year and I am so proud of you all. Fantastic job!
Miss Clouting
Music Co-Ordinator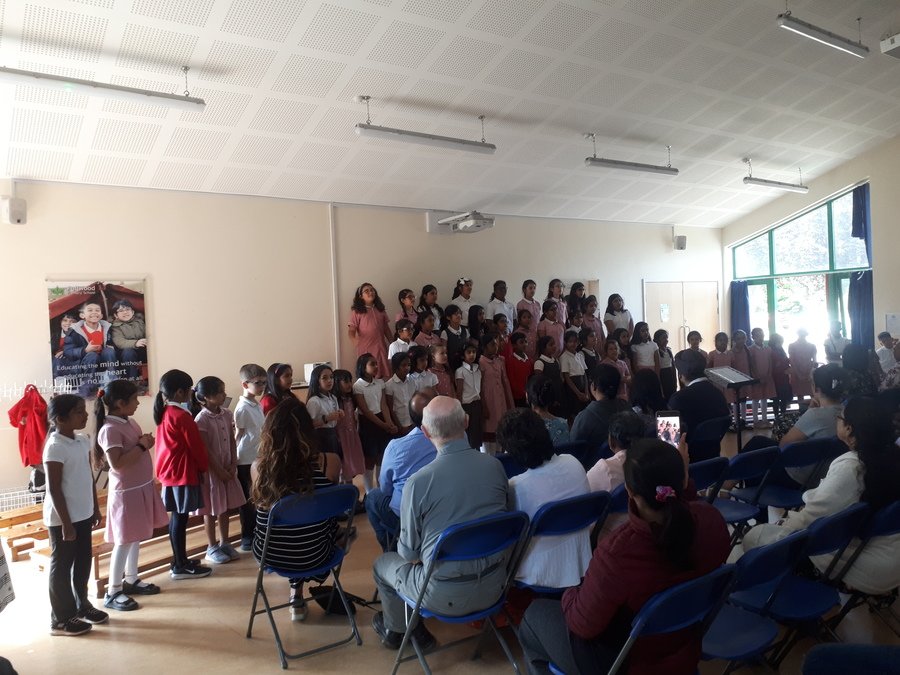 25th May 2022 - Year 5 and Year 6 sports trip
A group of students represented our school at an Athletics event at Cricklefield Stadium, Ilford where they competed against other schools in long jump, throwing events, sprinting and distance running. The children all performed amazingly and we are so proud of them!
12th May 2022 - Mental Health Awareness Week
Today, the children were paired up with other year groups to have a chat and to walk around the outside of the school. They really enjoyed their time outside and all sat down at the end of the walk to reflect on the week we've had and to celebrate and congratulate the Year 6's finishing their SATS exams!
22nd April 2022 - St George's Day
Today, we celebrated St George's Day by dressing up in red and white and we relived the exciting adventures of St. George, and how he came to be known as the patron saint of England in a special assembly, as well as in class, and tucking into a celebratory lunch of good old English fayre of a traditional English lunch.
1st April 2022 - Easter Parade
To celebrate the last day of school before breaking up for the Easter holidays, we had a whole school assembly where all the classes did a catwalk to show off their Spring outfits and Easter bonnets/hats. Everybody looked amazing and had the best time strutting their stuff!
Wednesday 9th March - #LetGirlsPlay day
As part of the #LetGirlsPlay's biggest ever football session, the girls in Y1 - 6 took part in football training drills and small sided games.

The campaign is to drive influence and change perceptions, showing that football can and should be played by girls.
Thursday 3rd March - World Book Day
This year we celebrated World Book Day with the theme, 'You are a Reader' and the children and staff dressed up in style to celebrate their love of reading and books! We encouraged our children to come dressed as a book character and to bring in their favourite book! Mr Vis shared a story in a whole school assembly and spoke about the importance of reading daily.
Teachers in each phase group swapped classes to read a story and some children even read their books with a buddy from a different class.
Ms Naiker
English Leader and UKS2 phase leader
Friday 11th February - Dress to Express day
As Children's Mental Health Week comes to an end, we celebrated with a non uniform day with the theme 'Dress to Express'. Children came to school wearing a mismatched outfit or any bright coloured clothing with donations of 50p-£1 which went to 'PlaceToBe' which is the organisation that has coordinated the children's mental health week nationally. We also started the day with a whole school dance off in the playground!
Mrs Harman, Miss Wilkinson and Miss Ali
Wednesday 8th February - Safer Internet Day
To promote Safer Internet Day this year - the children and staff dressed up as their favourite gaming character. During the school day - the whole school held an assembly to speak about different ways of staying safe when using the internet and when playing games online and class teachers did different activities to encourage children staying safe when being on the internet.
Mr Luequee
Computing Lead
Tuesday 4th January 2022 - Inter Faith Week
One of the things that makes Fullwood a very special place for learning is the diverse community we serve. We are made up of many different religions, cultures, traditions and speak over 40 languages in our school.
This makes it even more important for us all to understand each other's beliefs and ways of life and to accept that it may be different from ours but no less important to each individual. It highlights the message that we may all be different but we are all British and part of the Fullwood Community and it is this commonality, among many more, which unites us.
We would like to use the opportunity of Inter Faith week to explore and investigate some of the similarities and differences in our religions and cultures in order to gain a better insight into the way other people live their lives and the beliefs they may have. The children will share their own experiences of their religion and culture and will in turn learn about others.
Friday 17th December - Gingerbread House colouring competition
This year, our children had the opportunity to enter a whole school competition to win a variety of art items. Mrs O'Donoghue had a tricky time deciding the winners, as all the entries she received were incredible, but in the end she chose winners from Nursery, Reception, Year 2 (KS1), Year 3 (LKS2) and Year 5 (UKS2). Well done!
Thursday 16th December
Fullwood Primary School would like to extend a very big thank you to Mr Milan Patel, Longwood Gardens Co - Op and Ms Flora Kunoshevci, Fencepiece Road Co - Op for their generous donations towards our school.
We truly appreciate their generosity and our children, staff and parents are extremely grateful to everybody at Co - Op and are looking forward to using the donations towards our next new project!
Our Year 6 students have been busy making personalised cards and writing thank messages to all who have donated to Fullwood over the festive period.
Mr Danvir Visvanathan and Mr Ward
Executive Headteacher and Associate Headteacher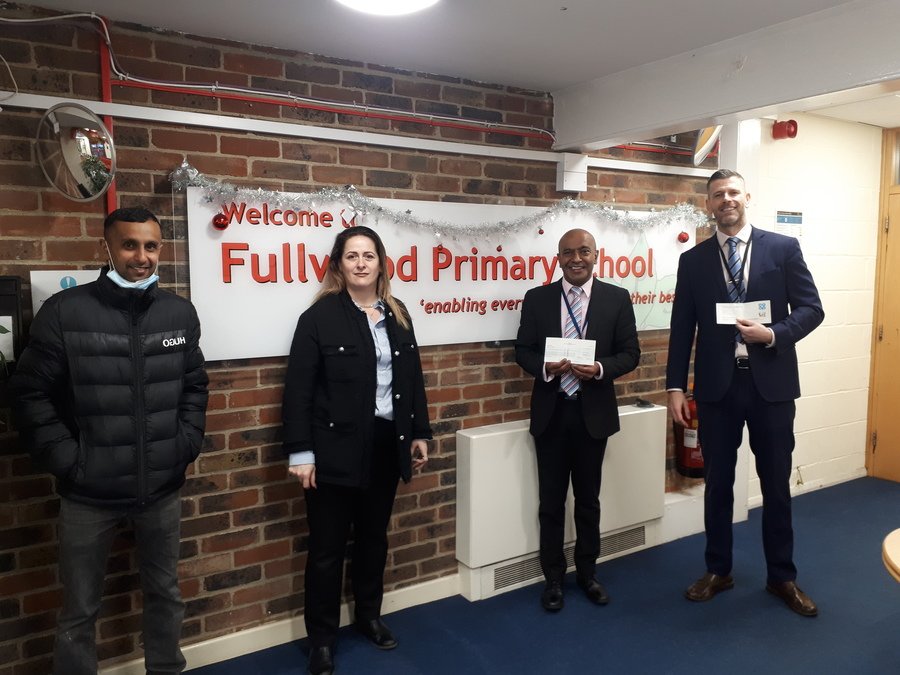 Wednesday 15th December - Christmas lunch
It was Christmas lunch for our children and staff today and we had a group of parents from the PA (masked, temperature and tested!) who came in to help decorate and serve at lunch time - the children loved the festive music, crackers and special lunch. Thank you to our excellent cooks and parents who helped out!
Tuesday 14th December - class parties
The children had their class parties this afternoon with lots of dancing, singing and festive fun - they all enjoyed their snacks with their friends and teachers. It was lovely to see all the happy faces and all the decorations around the school.
Monday 13th December - Christmas Raffle
During a virtual whole school assembly, the prize winners were chosen and delivered to the children. We had great fun choosing the winners and hopefully the children and families are just as happy with their prizes. Thank you to all the local businesses who very kindly donated prizes to our school!
Friday 10th December - Santa Dash, Christmas Jumper day and Choir performance
Today, the children and staff wore their Christmas jumpers and donated money towards supporting the Macmillan Cancer Support, Make-A-Wish UK and Save the Children's charities - they all looked fantastic! Miss Jones arranged a 'Santa Dash' where the younger children paired up with the older children for a walk around the school. Some of the older children chose to run a few laps at the end and even Santa made an appearance, although he ended up running the wrong way!
After school, the PA sold some festive treats whilst the Fullwood community had the joy of listening to the choir perform outside the small hall - the Mini Maestros performed first and then the older children sang to everybody at home time. It was a wonderful performance!
Tuesday 30th November - Christmas at Fullwood
Our wonderful Parent's Association came in today to decorate the school ready for the festive season ahead. Thank you to Saira Wahid and her colleagues at Barkingside Iceland for the generous donations she gifted our school for the Christmas raffle as well as the parents from the PA who have been liaising with her personally to arrange the drop off.
As you can see, our children and staff are very grateful and are looking forward to buying their tickets to enter the raffle for all the prizes!
Friday 19th November - Children in Need
This year, to celebrate Children in Need, the children took part in an assembly and donated money towards the charity by wearing pyjamas and onesies. We raised over £400 - thank you parents and children!
Climate Change awareness week
This week, we focused on increasing awareness on climate change and the impact it has on Earth. To celebrate the hard work and great learning that took place - we celebrated at the end of the week by encouraging our children and staff to create outfits using existing items from our households. The recycled outfits were fantastic and we even did a catwalk for staff and children!