For the latest newsletters and letters sent to parents/carers please click here (including upcoming events) and to view the latest pictures of children and staff please click the gallery page.
Thursday 9th June 2022
Thank you to our Fullwood Community for coming out to support the Queen's Jubilee celebration. As you can seen in the pictures, our event was enjoyed by all!
Mr Visvanathan and Mr Ward
Executive Headteacher and Associate Headteacher
27th May 2022
What a wonderful half term it has been! We hope our Fullwood community have a restful break and we will see you when we return to school on Tuesday 7th June. Don't forget we will be celebrating the Queen's Jubilee on Thursday 9th June from 2 - 5pm with lots of fun activities!
Monday 26th April 2022 - FPS Jackpot Experience assembly
We held our raffle assembly for our jackpot experience and our winners were all chosen - the children are very excited, as you can see by some groups of our children below! More information about when they will be taking place will be sent out to children and parents shortly.
Thursday 23rd March 2022
Today marked the two year anniversary of the first national Covid-19 lockdown and to mark the occasion, a minute's silence was observed to remember those who lost their lives during the pandemic and paying tribute to frontline workers. Our children made wreathes which they laid in our rose corner and a few of our Year 6 students read poems to the whole school.
Mr Visvanathan and Mr Ward
Executive Headteacher and Associate Headteacher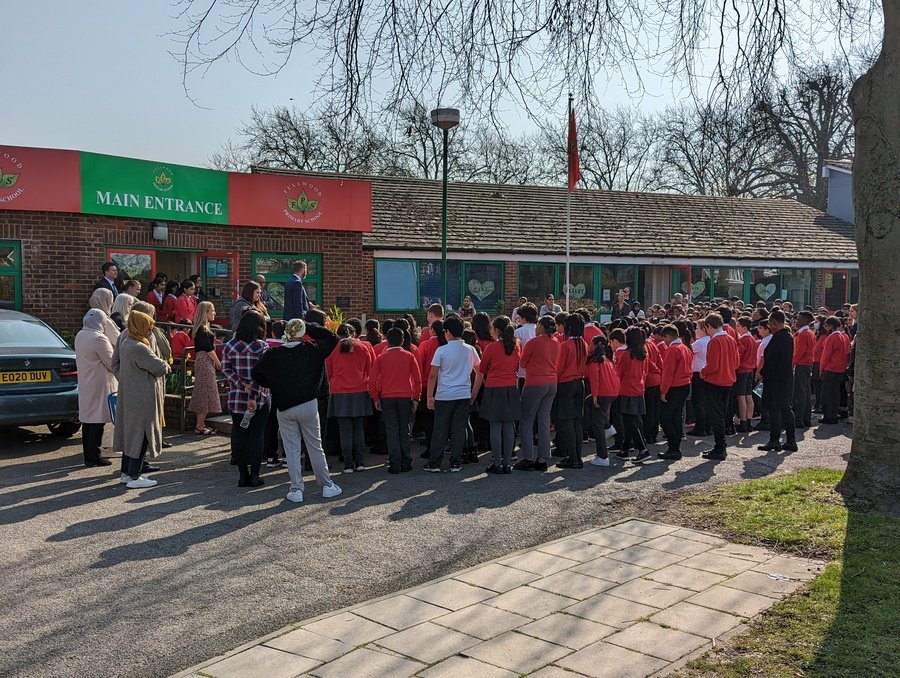 Wednesday 26th January 2022
Dear parents/ carers,

Just a reminder about the presentation on child development and mental health. The presentation will be held by Professor Nik Steinbeis and one of his team members. Nik and his team work at University College London and the Anna Freud Centre. Their work specialises in children's social and emotional development and how this can be supported. The talk will be about his and others' past and ongoing research. We have talked at length with Nik about his work and feel that parents would find it interesting to hear more about the cutting edge research on this important topic for our community in understanding how our little people develop.
The event will take place online tomorrow on Wednesday 26th January 2022 at 4:30pm and can be accessed at this link: https://meet.google.com/fnx-bdeb-jna?hs=122&authuser=0
Thursday 13th December 2021
As we approach the end of a very busy, but very productive Autumn term, we want to extend our sincerest thanks to all parents and carers for your ongoing support. The additional pressures schools, and our community in general, are still facing due to the pandemic continue to impact on us all, so your unwavering support and understanding is greatly appreciated. If we do not get a chance to see you before Friday, we hope and pray that all members of the Fullwood community have a happy and healthy break and hope our Christian friends enjoy this very special time of year.
Merry Christmas and a Happy New Year!
Mr Visvanathan and Mr Ward
Executive Headteacher and Associate Headteacher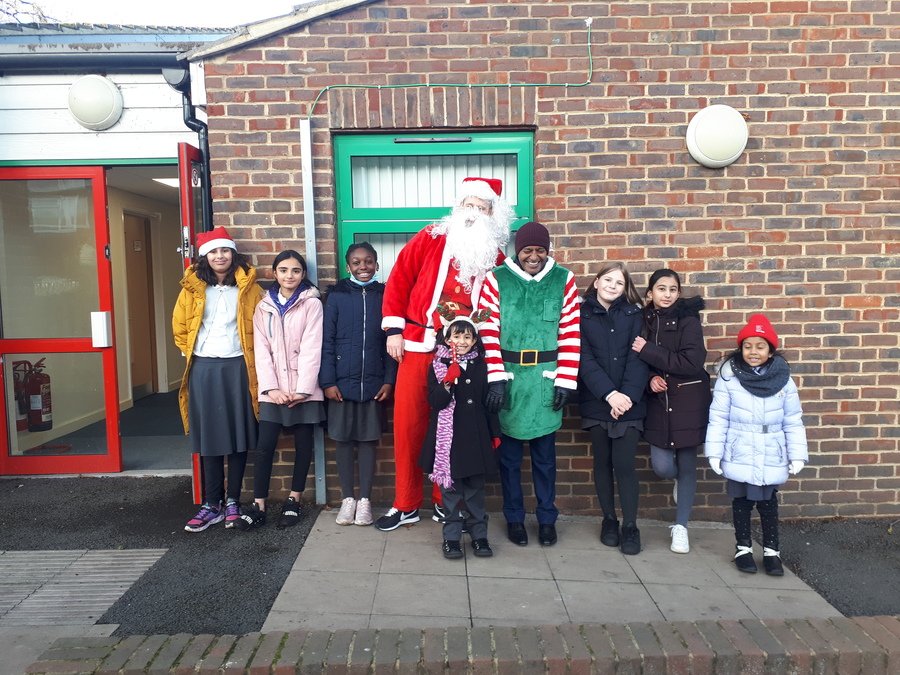 Friday 8th September 2021
It has been a very lovely start to the term with all children settling into their new classes well and adapting back to not being in bubbles. We are really looking forward to the year ahead and are optimistic that it will be a happy and healthy one. We are continuing to monitor the situation, following national and local guidance and will, of course, keep all parents and carers updated through our regular letters and newsletters.
Mr Visvanathan and Mr Ward
Executive Headteacher and Associate Headteacher
Tuesday 5th January 2021

We are sure you are aware that yesterday evening the Prime Minister announced that the country will go into another national lockdown. This will mean that all schools, including ours, are essentially closed until February 12th 2021.

Details are here: https://www.gov.uk/guidance/national-lockdown-stay-at-home#summary-what-you-can-and-cannot-do-during-the-national-lockdown

After a hugely successful (if not very intense) Autumn term, where we were able to get all children back into school, happy, learning and growing with their peers, having to lockdown again is a particularly saddening thing to do and something we hoped we would never have to do again.

We know that our school being closed has a huge impact on our whole community and places huge pressure on us all. If the school could be safely open at the moment, it would be and as soon as we can open our doors to all pupils, we will. It is in times like these however that communities need to ensure all its members are cared for, so please check on your neighbours and please be patient with those around you. Please also remember that the pandemic continues to impact negatively on all those you interact with and a kind word or offer of help goes a long way.
Leaders at Fullwood have worked in many schools and know that our Fullwood school community is unique, filled with parents who share the vision of the school and appreciate the role we play in your children's lives. If we, as a school, can support you in any way during the difficult weeks ahead, please let us know: admin.fullwood@redbridge.gov.uk
Mr Visvanathan and Mr Ward
Executive Headteacher and Associate Headteacher
Monday 4th January 2021

Due to the current situation with rising numbers of Covid-19 infections and school closures, we are having to reinstate our remote learning procedures.

Our remote learning provision will be a combination of assignments, set each day by your child's class teacher via their Google classroom, and 'live' lessons using Google Meets. Each day there will be three tasks/activities set - an English, a Maths and Science or a foundation subject. There may be additional well-being activities (drawing, colouring, meditation links, sports activities) which your child may choose to do.
From Monday 11th January 2021, your child's class teacher will also deliver a 'live' lesson each day via Google Meets. More information, including a timetable, a behaviour code of conduct as well as safeguarding guidance for parents will be sent out in the coming week.

For more information on how to access Google Classrooms and assigned work as well as how to hand in completed work, please refer to the Remote Learning information letter send on the 3rd January which can be viewed here.
Friday 1st January 2021
As you will have heard in the news, Redbridge has been identified as falling into the high risk category for Covid cases. The decision has been made by the Government to keep schools in these areas closed until 18th January. This means that Fullwood Primary will be closed to all children other than children identified as vulnerable or critical workers children. Please read Autumn Term Letter 20 sent to parents on 31st December 2020 in the Letters Home category. We are currently working on our operational plan and will contact you in the upcoming week regarding the home schooling timetables and arrangements. All children at home will receive online learning provided by our G Suite online classes. We hope we can work together to ensure your children are safe and engaged with learning in these challenging times.
Wednesday 16th December 2020
Redbridge Council is proposing to implement School Streets at Fullwood Primary School as part of its plans for a Greener Redbridge and the "Our Streets" programme to create great streets and neighbourhoods.
The proposal is that during term time, non-residential vehicular traffic - cars, vans and lorries, will be prohibited from driving along certain roads in the vicinity of the school at school start and finish times.
The proposed times of the prohibition are between;
Morning: 8:30 – 09:15
Afternoon: 14:50 – 15:45
The prohibition will be indicated by signage at the relevant junctions and will be enforced by automatic number plate recognition camera (ANPR). A Penalty Charge Notice (PCN) will be issued to the owner of any vehicle that breaks the prohibition. The fee for a Moving Traffic Contravention is £130, for which there is a 50% discount if it is paid within 14 days.
If you wish to comment on, or object to the School Streets proposal please contact the council by email - schoolstreets@redbridge.gov.uk, or write to the School Streets Team,10th Floor (front) Lynton House, 255 - 259 High Road, Ilford, IG1 1NY. All responses should be received by Wednesday 20 January 2021.
If the School Streets are implemented, the Council will then write to all consultees advising them of the decision and the Experimental Traffic Order. It will also write to the residents and businesses located within the restricted area to inform them of how they can obtain their free vehicle exemption.
Yours sincerely,
Redbridge School Streets Team
Tuesday 15th December 2020
Please see the wonderful performance by our very talented Fullwood Choir (the song was composed by Miss Burton and Miss Clouting) - the children recorded their voices at home and then mouthed their performance in school to create the video for all children, staff and parents/carers to view. Well done children - you were all fantastic!
Fullwood Primary School
Monday 9th November 2020
The booking system for the virtual parent consultation meetings for Autumn Term 2020 is now open, please check your inbox or spam/junk and click on the link via the email to book your child's appointment. Virtual meetings will be taking place on Thursday 26th November.
Tuesday 13th October 2020
Children will be bringing home a flu immunisation form today, please complete the form and return to the school via your child's book bag or member of staff on the playground before Monday 2nd November. Please contact the school office if you misplace your form.
Tuesday 15th September
Dear parents/ carers,
Please see below the system we will be following if there is a suspected case of COVID at Fullwood:
Dear all parents,
I'm getting in touch to share our 'back to school' digital guide with you. Aimed at parents, carers and pupils – we've created this short e-booklet to offer comfort and reassurance that school lunches will continue to be prepared and served safely from September. To view the guide, click here https://indd.adobe.com/view/68f5173d-9223-4ab0-bfeb-18019766c6ea. The guide includes an embedded video message from our Senior Nutritionist discussing school food standards and a link for parents to see if they are eligible for free school meals.
Lynda Townend - ISS Operations Manager - Education
(3rd September 2020)
A message for our Year 3 parents (2nd September 2020)
Please be aware children going into Year 3 will no longer be eligible for Universal FSM and will need to pay for their schools meals for this academic year. If you receive one of the listed qualifying benefits, you should make an application for free school meals. Please click here to register for an online account to top up your child's balance, order their lunch from home and update their details.
A message from all at Fullwood Primary School (17th July 2020)
Dear parents and carers,
We have reached the end of a very surreal, challenging and extraordinary summer term. Since we were forced to close our school for the majority of our children in March, Fullwood has certainly not felt like the vibrant place it usually is and, although a full reopening in September brings a range of challenges for us all, it will be so wonderful to be able to welcome back each and every one of our children. The strength of the Fullwood family has been very apparent during recent trying times and it will be great to finally feel like a school community again.
We would like to say another heartfelt thank you to each and every parent for your support, understanding, kind words and patience during a very challenging 5 months. All staff have done their very best to do what is right for the Fullwood community, and will continue to do so moving forward, but it is the strong partnership of the school with its parents that helps make our school such a special place.
On behalf of the governing body and all members of staff, we wish you a restful and enjoyable summer break and look forward to seeing you all in September!

A message from Mr Vis and Mr Ward (22nd June 2020)
Last week Monday, we welcomed some our our Year 6 students back and we opened the doors again today, to some Year 1 students. We look forward to some Reception students joining us next week Monday 29th June and as always, we remain open to children of essential key workers, children with an ECHP and vulnerable children.
It has been wonderful to see the happy and smiling faces on the children as well as all our lovely parents and carers. It has made us miss all our children even more than we already do and we hope that we are able to have our whole Fullwood family together again soon. If your child is in Year 6, Year 1 or Reception and you wish for them to return to Fullwood, you need to give 5 days written notice via the school email address: admin.fullwood@redbridge.gov.uk and a member of ULT or admin staff will be in contact with you.
A message from Mr Visvanathan (10th June 2020):
Please see our updated behaviour policy which now includes our COVID 19 Annexe which is on our policies page. The COVID 19 annexe can be found on page 2.
A message from The School Fruit and Vegetable Scheme (4th May 2020):
"The School Fruit and Vegetable Scheme provides a free piece of fruit or vegetable every school day to pupils in Key Stage 1 in state-funded primary schools. Schools in England closed for the majority of pupils on 20 March 2020 until further notice and so the School Fruit and Vegetable Scheme will not operate at the current time. We will use the money which would have been spent on the SFVS on activities which are crucially important at the current time, such as supporting the NHS."
A message from all of us at Fullwood Primary School (26th March 2020)

Mr Ward, Mrs Cilimkovic and a group of students were very busy this week creating an incredible display in the main hall to share with our Fullwood family.
Andrà tutto bene, which is an Italian expression, meaning everything will be alright!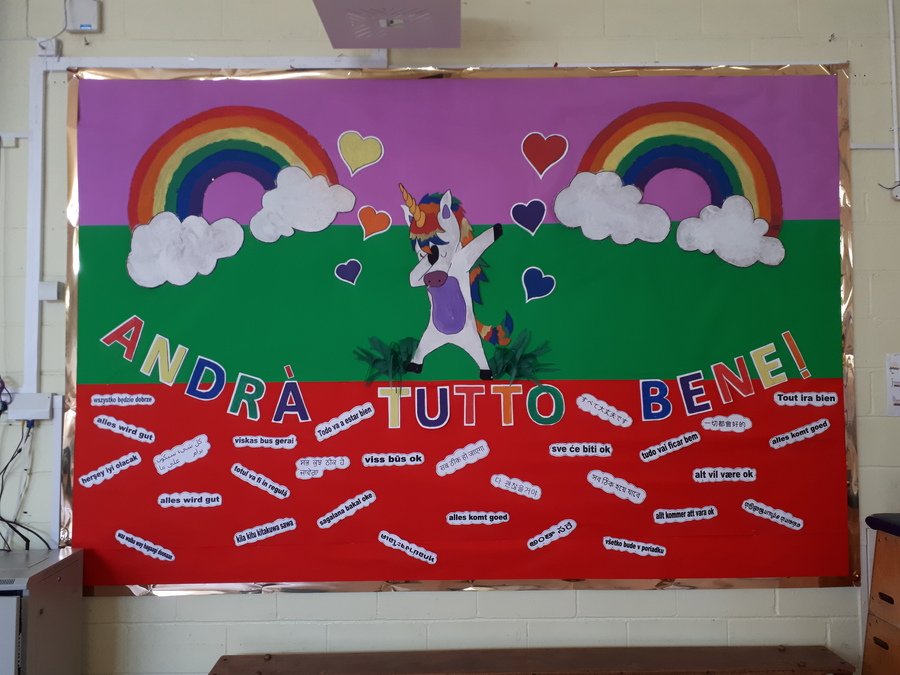 A message from the Headteacher (23rd March 2020):
"Dear parents/ carers, staff and children,

We are missing you all and thinking of you. Remember to wash your hands, stay indoors or keep social distancing if you have to go out and keep safe. We saw this poem and thought it would be lovely to share with you - please share it with the children as well.

All good wishes and stay positive."

Mr Visvanthan and all at Fullwood Primary School
Poem by Ursula Dubosarsky
Australian Children's Laureate, 2020 - 2021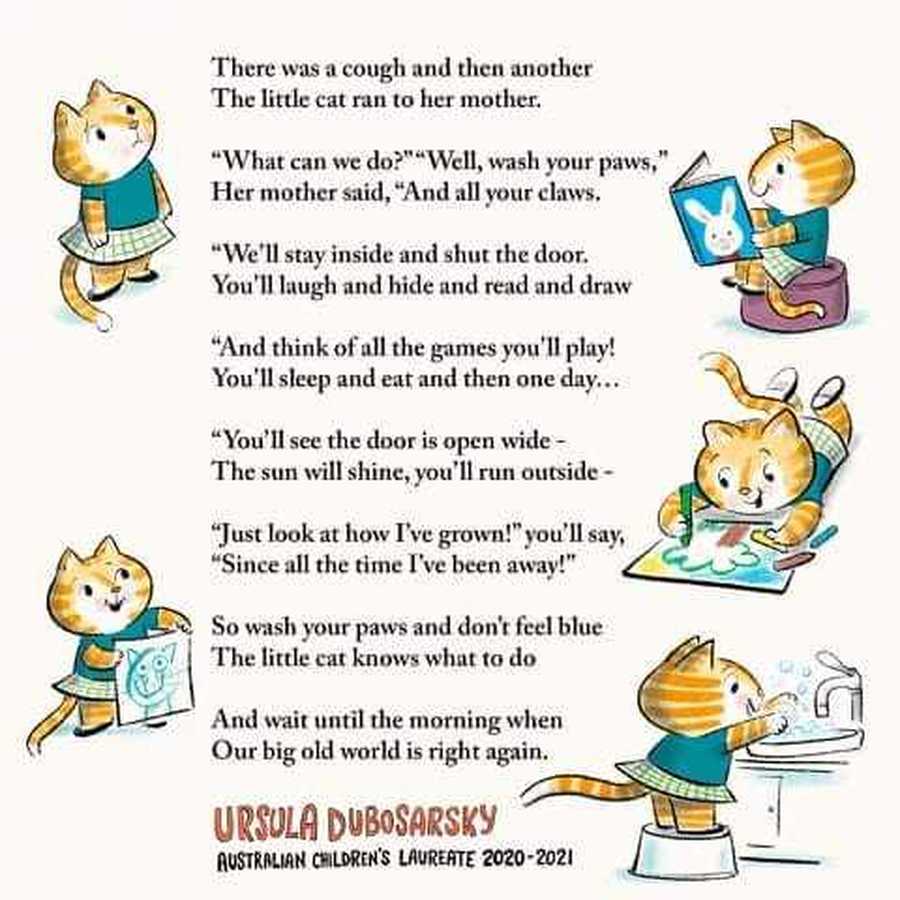 Friday 13th March 2020
The children and staff have dressed up in their best sports outfits and have donated towards the Sports Relief charity. Thank you to our children and staff for getting so involved! - visit the gallery to view the fabulous outfits! We raised £144.60 for the charity and they were very grateful for the donation.
Thursday 5th March - World Book Day
Today, we celebrated World Book Day by dressing up as book characters and bringing in our favourite books to share with our teachers and friends.
Please click on our gallery to see the pictures.
Wednesday 4th March - choir to Albert Hall
Miss Clouting, Miss Burton and Miss Valins went with our choir children to perform at the Albert Hall - everybody had a great time!
Well done Fullwood!